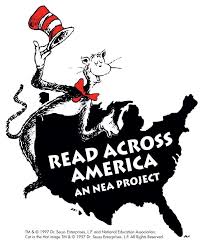 Driscoll students in grades K-5 will join millions of their peers across the country this week to celebrate the 21st annual National Education Association's (NEA) Read Across America. During this weeklong event, we will cultivate a community of readers at Driscoll through read alouds, book talks, book dress-up, and photos with our favorite books. Families, we encourage you to participate at home, reading a beloved book each night together.
Friday, March 2nd is Dr. Seuss's birthday. In celebration of his book collection and what they have done for readers across America, K-5 students are invited to dress up each day of the week according to the following schedule.
Monday, 2/26 - Fox in Socks : Wear silly or mismatched socks.
Tuesday, 2/27 - Green Eggs and Ham : Wear the color GREEN
Wednesday, 2/28 - Wacky Wednesday : Let's get silly! Wear your clothes backwards, inside out, or mismatched.
Thursday, 3/1 - The Cat in the Hat : Wear your favorite hat.
Friday, 3/2 - Sleep Book : Wear pajamas or comfy clothes.